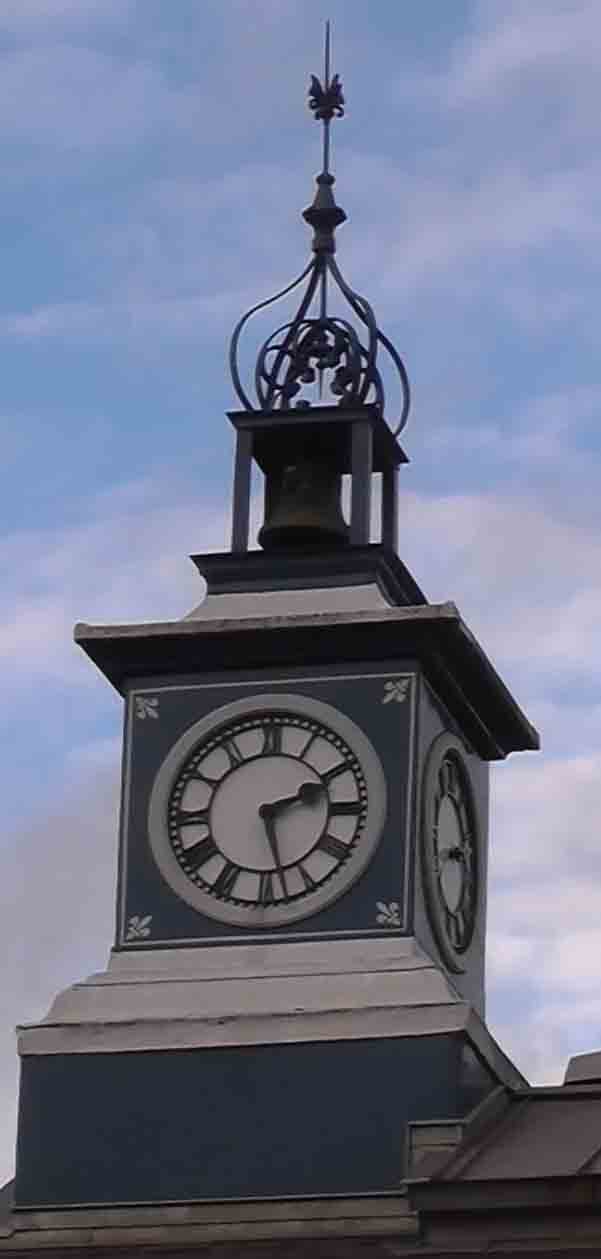 A Good Time in Radstock is the project to update and refurbish the Market Hall clock and restore its hour strike that has been silent for many years.The Market Hall has been a central and prominent feature of Radstock for nearly 120 years and the clock has become a symbol of Radstock, featuring prominently on the new road signs, and along with the old mining headgear is an integral part of Radstock's town centre.
In Queen Victoria's Diamond Jubilee year of 1897, there was a 'vocal section of the public clamouring for a town clock'. George Coombs, who initiated the building of the Market Hall in 1898, listened to that cry; and the clock was installed in the new building by F.S. Lane (Frank Lane) a Radstock based jeweller.
To start with, the clock dials were illuminated by gas light. After 1910 the gas lighting was paid for by the Urban District Council in return for the public use of the lavatories in the Market Hall, there being no other public conveniences in Radstock at that time.
The gas lights were converted to electricity in 1932 but, by 2015, this system was no longer functional and the dials were no longer illuminated. Sadly the hour strike has been silent for many years.
When the Market Hall was converted into a Museum just before the turn of the millennium Terry Taylor of Paulton, a highly experienced horologist, carried out a complete clean and refurbishment of the clock, but time has marched on and the clock is overdue for an overhaul.
As a contribution to the regeneration of central Radstock, and to restore pride in our town's historic character, Radstock Museum, as custodian of the Market Hall, intends to bring the clock back into full operation as an accurate timekeeper, with automatic winding, with an illuminated dial and with the chime fully functional, but silenced at night!
It is estimated that the total cost of the clock restoration and upgrade is slightly more than £11,000.
The project is being done in phases and each phase will start as soon as sufficient funds have been raised for it.
The restoration will be managed by Radstock Museum and carried out by Symon Boyd of Timsbury Clocks and with advice from Terry Taylor.
A Good Time in Radstock – the project