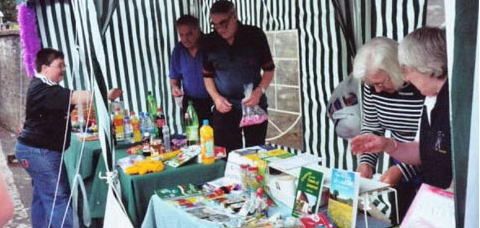 The Friends of the Museum are a community-based fund-raising group who meet regularly to discuss ways of promoting the Museum Society and the Museum.
The aim of the Friends is to raise funds for the Museum by organising or helping to organise fund-raising events, by acting as volunteers to support these events and by promoting the Museum and what it offers at every opportunity.
They attend village fêtes throughout the district, organise social events, bingo, skittles and quiz evenings. One major event organised by the Friends is the highly successful Christmas Fair. The festival atmosphere is enjoyed by visitors and stall holders alike.
Funds raised by the Friends are often used to acquire new artefacts for the Society's collection or to support the creation of new displays in Radstock Museum.
If you would like to support the Museum in this way, please join our Friends organisation. It's FREE and will help the Museum to remain open and to preserve the social and industrial heritage of the former Somerset Coalfield.
You can contact the Friends in two ways:
You can join up as a Friend directly and also receive News of the Friend's Events by clicking the Friends LINK, which will take you to an online form to complete.
And, if you have ideas to share with the Friends, you can email them on friends@radstockmuseum.co.uk
You will be made most welcome.