In April 2017 Norton Scaffolding erected the scaffolding needed to get to the top of the clock tower and Symon Boyd from Timsbury Clocks removed the hands, the hand drive mechanisms, the bell, the hammer return spring and the strike mechanism and took all the pieces requiring restoration to his workshop. He found that apart from needing a very good clean up, the strike return spring needed replacing, one of the two trunnions on the bell strike shaft had sheared off and the bearings had suffered some minor damage.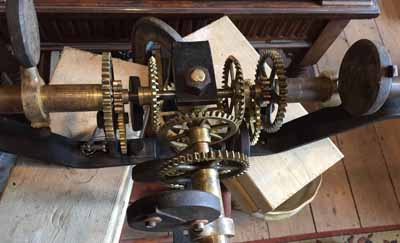 On May 2nd Symon re-installed the bell and the repaired hammer mechanism with a new spring which was made for us by the J.R. Goold Vintage Steam Restorations Ltd at their works in Camerton.
Although the clock motion and hands were not at that time in place the strike mechanism was recommissioned and for the first time in many years the clock struck the hours!
At the same time as this was going on, one of our volunteers, Bob Taylor, was working on the tower paintwork and sorting out the leak which had been causing water ingress into the new Research Room below the clock tower.
After a spring clean of the inside of the tower by Jos Binns, Symon Boyd replaced the overhauled motion and the clock hands.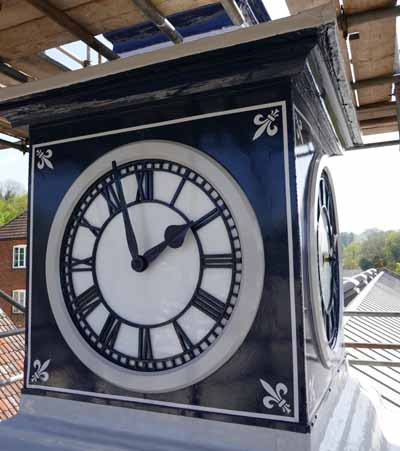 And finally on May 9th the motion was reconnected to the clock movement and the hands starting telling the time again.
The scaffolding came down in June.
Many thanks to everyone who contributed to this great achievement by carrying out the work, by giving grants and donations or by supporting the fund raising process.
The real work starts – Spring 2017