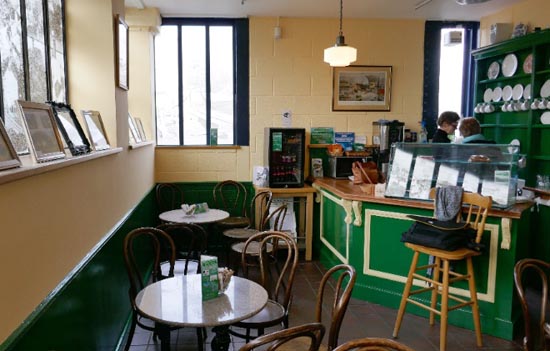 During the winter break 2017/ 2018 the tea room had a complete make-over and is now resplendent in the livery of the Southern Region Railway.
The window panes are cleverly decorated with black and white images taken from the Museum archive.
This design is complimented by authentic recordings of working steam engines that provide 'mood music' for our visitors.
To go with the new decor we have enhanced the range of cakes on sale and the new items have been very well received, particularly the home baked flapjacks.
The TEA ROOM is adjacent to the shop and is open during Museum opening hours for a selection of refreshments including speciality teas, good coffee, Somerset cream teas and homemade cakes.
We welcome walkers and cyclists; you do not need to buy a Museum ticket to enjoy the tea shop.
The Tearoom transformation