This is a diary of some of the things we have done to enhance our visitor experience  in 2017.
In February 2017 Radstock Museum began a programme of significant and exciting changes to its displays and permanent exhibitions that will enhance a visitor's experience.
Our full name changed to Somerset Coalfield Life at Radstock Museum which will gives people, near and far, a better idea of what Radstock Museum is all about. Along with the new name there is a new logo which has been inspired by the letter head of "Somerset Collieries Ltd" as can be seen in the picture below.


Our development co-ordinator, Miranda Litchfield, was appointed early in 2017 and by 'Opening Time' in February she had used her artistic skills to make several changes to our permanent exhibits.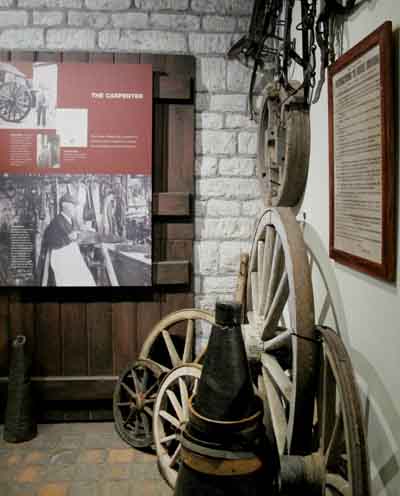 We now have a washing line outside the Cottage, an improved wheelwright's display outside the Forge, two new Noticeboards at the front entrance and James McMurtrie has a new parlour in the upstairs gallery.
Our young visitors can 'post' a top secret letter in the Victorian post box – but can they find the post box?
---
JAMES MCMURTRIE
James McMurtrie was born in Ayrshire in 1840. He came to Somerset at the age of 22, appointed "Head Bailiff" (foreman or overman) of the three Waldegrave collieries in Radstock: Middle Pit, Ludlows and Wellsway.
He was charged with providing Frances, Countess Waldegrave, with the sum of £8000 per year from the Radstock pits. He became her personal assistant and confidential secretary and managed her entire estate business.
He lived at South Hill House which was on the Frome Hill and now demolished. He was married three times and had 17 children! He managed the Waldegrave estates until Frances' death in 1879 and then continued to do the same for her widower, Lord Carlingford, until 1898 when he retired.
James McMurtrie retired to Bristol where he died in 1914. at the age of 75.
He was an exceptional engineer and geologist and wrote and presented many papers on coal mine engineering and the geology of the Somerset Coalfield to local societies during his lifetime. The Museum holds these papers and his beautiful drawings and diagrams which are currently being summarised by a volunteer.
---
Update on James McMurtrie's parlour: September 2017.
The partnership with Bath College's Somer Valley campus students has flourished and the new parlour on the mezzanine floor has been painted and wallpapered in the  Victorian style, circa 1800.
---
In April 2017 we started moving things around.

The Funeral Bier has been moved to a new location adjacent to the mine; a much more appropriate place as it now depicts the death of a coal miner with a simple bunch of flowers on the coffin, no posh wreath.
A very poignant touch is a small bunch of bluebells on the Bier as if put there at the last minute by the child of the poor miner in the coffin.
---
Moving the Bier meant we could re-position the Co-Op Bread Van: and now we could get a horse!!!
Martin Horler, a Museum Trustee and costume historian extraordinaire,  has acquired a complete set of Vanner harness for our horse.
(The horse is currently in the workshop getting its own re-branding).
---
By May more of our plans were coming to fruition.
At long last the new display cabinet, which had been on order for many months, arrived.
As it is fully up to modern museum specifications it will enable us to house more small temporary exhibits, particularly those of high value or of a fragile nature.
---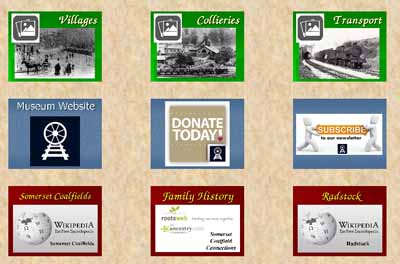 The new Research Room was opened and the new Public Access PCs, for accessing some of our treasure of archive material, were commissioned.
Follow this LINK for more information on how to view this material from within the Museum.
---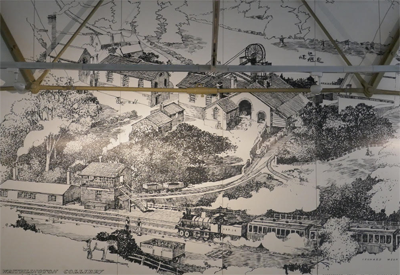 The large Writhlington Mural depicting Lower Writhlington Colliery, which was closed along with Kilmersdon Colliery in September 1973, was installed on the upper floor mezzanine level with the Parliament Clock moving from its central position to the edge of the mezzanine.
The mural, captioned 'Lower Writhlington Colliery 1830', is a reproduction of an old photograph by Leonard Meux Delt. It is made up of four large wooden panels and had being kept in storage at Bath College, (formally Norton Radstock College).
The College has donated it to the museum.
---
A Good Time in Radstock is the major project, being managed by Radstock Museum, to restore the Radstock Old Market Hall Clock to full working order and with 21st century sophistications. We started raising funds in 2015 and one step at a time have made good progress. The story of this on-going project is told in a series of website posts. You can read them all by clicking HERE;  or follow the blue link on the What's On page

---
New for Summer 2017.
Our new children's trail:
Amy the Ammonite & Friends.
Designed especially for the under 5s who sometimes find the picture quiz a bit demanding.
Smaller children are invited to go on a Fossil Hunt and search for for 10 hidden ammonites.
Each ammonite is a different colour, painted and decorated with glitter/sequins and has googly eyes. They are very cute and well hidden and do not to distract from the exhibits and displays.
Children can claim a sticker when they have found all the ammonites.
Especially for the under 5s: who get FREE admission to the Museum when with an adult visitor.
---
June 2017. New banners for the upstairs gallery.
The Friends of Radstock Museum, our community fund raising group, have sponsored the purchase of four banners.
These colourful banners, which have been specially designed by Miranda Litchfield, the Museum Development co-ordinator,  focus on our specialist collections of Ceramics, Curiosities, World War, Agriculture, Lord Nelson and Methodism.
They are sited high in the upstairs mezzanine galley and entice our visitors to explore in depth the Collections that we hold at the Museum.