Issue 100: Summer 2021: 5 Arches centenary issue. Available from the Museum shop for £4.00
A milestone  achievement for the team behind Five Arches, for the Museum Society and for Radstock Museum.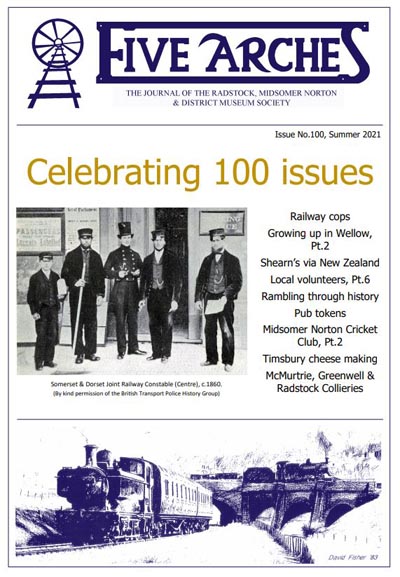 • Celebrating our 100th issue
• Rail Cops: the Somerset & Dorset Joint Railway Police. Departments Norton-Radstock to Bath Green Park, 1866-1928. Alex Andrews
• From the Archives: Bristol to Midsomer Norton, via Auckland, New Zealand. Simon Carter
• Norton Cricket Club, Pt.2: the first 100 years (1878-1978). Graeme King.
• The nineteenth-century public house token: paranumismatica, pt.3. Tom Randall
• Rambling through history: Radstock. Dennis Chedgy & Michelle Winfield.
• A glance over my shoulder: growing up in Wellow, Pt.2. Andrew Fussell,
• A story of local volunteers, Pt.6: War! Gill Hogarth
• Mary Holbrook of Timsbury: the godmother of goat cheese making. Tony Lawrence,
• , Greenwell & Radstock Collieries in 1883. Sheila Eyles,
Return to Five Arches History Journal – Home Page