Five Arches is the History Journal of the Radstock, Midsomer Norton and District Museum Society.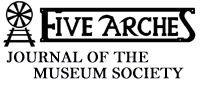 It is published three times a year and contains articles of various sorts. The sort of articles that you might find in Five Arches are:
• Local heroes – war heroes / mining heroes / sporting heroes. For many of our local heroes, their achievements are recognised with the award of medals and certificates – the Victoria Cross, the Edward Medal, or the cups and medals won by sporting heroes. For others, the achievement lives on in the memories of those who were there.
• The Music of the coalfield – articles on the music and musicians of the area – fiddle players, church and chapel choirs and the organ builders from Carlingcott and Peasedown.
• Local businesses – The history of the local economy is dominated by businesses traditionally associated with mining: the iron industry / the coal gas industry / railways and wagon works. Local retailers and manufacturers represent the non-coal related business with attention on motor trade / brewing.
• Household names – There are many names that we associate with our past and to hear them given voice conjures up the images and memories from which our understanding of our own past, and our heritage, is drawn. Amongst those featured in Five Arches are national figures. For everyone concerned, the names bring forth slightly different emotions and views, and it is that diversity of perception that enables us to return to familiar subjects again and again.
• Family history – For people interested in finding out more about their ancestors and the world in which they lived, many items can help uncover more about your family; such as old photographs, old letters, diaries and certificates of birth, death and marriage.
• Do it yourself research – Tackling historical research 'D.I.Y.' series. These have included field-walking, the use of maps and trade directories, medieval manuscript sources, and nineteenth-century census returns. In them, historians demonstrate just what can be discovered using different approaches to research, enabling you to find out more about the past for yourself.
The following links will take you to information about:
The Current Issue of Five Arches:
How to Subscribe to Five Arches:
How to Contribute to Five Arches:
A list of some of the Special Issues of Five Arches: