Radstock Museum holds a unique archive of documents and images especially those relating to the social and industrial heritage of the former Somerset Coalfield.


Within our digital archive we have over 17,000 photographs and documents available for research.
A new Research tool: made available in 2017.
The Museum has a large collection of photographs: many are commercial postcards, some studio/professional photographer's prints, others donated by amateur photographers. These date from about 1870, but many cover the so-called "golden age" of postcards from c1905-1930s.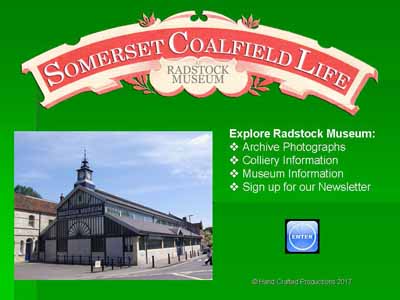 Some of these images are on display around the Museum, but most are held in the Museum archives.
Following generous grants from The Friends of Radstock Museum and Westfield Parish Council, two Public Access computer terminals are now available in the Research Room on the first floor of the Museum that will enable visitors to browse (via a Google Chrome browser) and view about 800 of our photos, covering the period 1870-1939.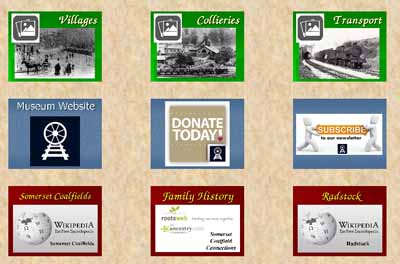 Photos have been arranged by subject matter: 36 towns & villages, transport (road, GWR and S&D railways and canals), and industry (79 collieries, including location maps and photos). Further subjects will be added later.
The system will enable visitors to explore the archive photos (green tiles); view the Museum website and sign-up for our Newsletter (blue tiles); or look at external websites on local topics, including Family History (red tiles).
Colliery pages provide a brief description of the colliery, operating dates, depth of shaft and a map of where the colliery was situated. Links are also provided to some external web sites, such as Historic England and British Geological Survey which provide additional information on specific collieries. Links are also provided for browsing any Museum archive photos of specific collieries in their heyday.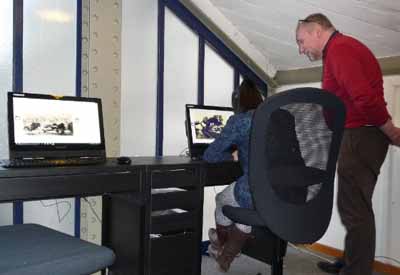 Access to this new Research facility is available to our visitors during regular Museum opening times.
As part of their Museum experience our visitors can sit at these computer terminals and browse through around 800 lovely and fascinating old images of our local area dating from 1870-1939. There is a guide on the desk in the research room on how to use the system, but it is really easy to use so you will very quickly be finding all kinds of photographic treasures.
Subject to copyright considerations, it will shortly be possible to order copies of photos at a nominal cost per 7"x5" glossy print.
We also have the Museum Society's history journal, Five Arches, which contains a wealth of information on the local area.
---
Start your research on-line.
We have recently made available a sub-set of our digital archive for you to browse on-line prior to a visit to the Museum or as the beginning of a full Research project.
Click the image to visit the new site.

---
Further your Research.
If you decide you would like further information on photos and postcards you have found, you can book an appointment to browse our library of local history and reference books.
You can also request help with researching specific topics by emailing our volunteer Research Team: research@radstockmuseum.co.uk
A member of the Research Team will then carry out some initial research and let you know whether the museum has enough in the archives to help you.
If we do then you can choose to book an appointment for a Team member to help with your research: Research Room visits will be on Tuesday mornings or as arranged with our research volunteer.
Charges for this will apply, but access to the Archive is free to members of The Radstock, Midsomer Norton and District Museum Society and Radstock Museum volunteers.
Read about Membership of the Museum Society here.