Somerset Coalfield Life at Radstock Museum offers educational visits to local schools and is also a great destination for a private group or social visit.
School visits.
We love having children's groups at the Museum and work hard to give them a good time and a quality educational experience.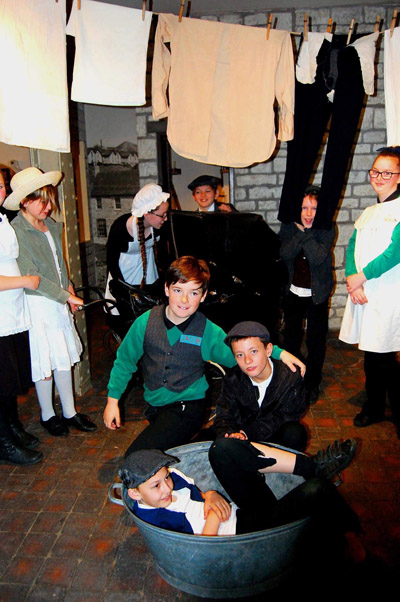 We offer a wide range of facilities for school visits.
The Museum has a Victorian Schoolroom where the children can take part in role-play lessons and a Co-op Shop where we have a small handling collection which promotes discussion in small groups followed by feedback to the rest of the class.
We also use the Miner's cottage kitchen and the atmospheric re-constructed Coal Mine.
Children have the opportunity to:
• Attend and participate in a Victorian school lesson
• Visit the Victorian shop
• Visit a typical miner's cottage
• Visit a replica coal mine
• Visit the blacksmith's forge
• Handle Victorian & early 20thC objects and guess what they were used for
• See and handle toys from the past
We are also able to discuss and respond to the requests of individual groups for particular tailored activities.
Download full details of the Museum's Educational visits in .pdf format.
For further information please email education@radstockmuseum.co.uk
School Visits to Radstock Museum Bring History to Life. Come and find out how we lived in Victorian Times
At all times the children will remain the responsibility of the teachers/helpers.
The Museum's gift shop can be open on request.
---
The Museum is also a great destination for a group or social visit.
Read More….. about group pricing and how to arrange a group visit.