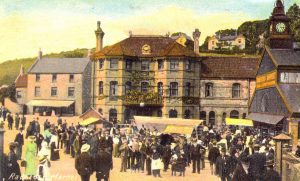 The Museum building was once a thriving Market Hall. Designed by Mr T. Martin, it was built by George Coombs (who already owned the Bell Inn and Coombs Brewery next door) in 1898 and replaced an old market on the same site. For over fifty years Radstock Market Hall was the centre of social life on a Saturday afternoon and evening. Stall holders came from surrounding towns with food, confectionary, china, clothing and footwear. Market dues were collected by Mr Willie Line and, later, by his daughters. Radstock Market was an occasion not to be missed and after a long working week those with a little money left over could be entertained, and enjoy the fish and chips.
In July 1999 with help from the Heritage Lottery Fund and local Councils this Grade 2 listed building was converted into Radstock Museum and became the permanent home for the Radstock, Midsomer Norton and District Museum Society's collection of social and industrial artefacts.
The Market Hall Clock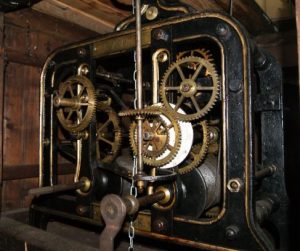 The Market Clock, visible both inside and outside the Museum, was made by F.S. Lane, who made clocks, watches and jewellery at his shop in The Street. Originally illuminated by gaslight paid for from the rates, it was the only public means of knowing time in Radstock apart, of course from the sounds of the local pit hooter.
A Good Time in Radstock is the project to update and refurbish the Market Hall clock and restore its hour strike that has been silent for many years.
There are many interesting things to discover, within the Museum archive, about the buildings associated with the former Somerset coalfield. There are potential research projects for adults and children to pursue. There could be articles for our History Journal, Five Arches, just waiting to be written and published.
Please be in touch with our volunteer teams if you have ideas to share.