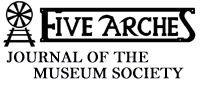 Five Arches Journal is published three times a year, with occasional Special Issues.
The first Issue of Five Arches was published in 1986.
Searching the Five Arches Back Catalogue and the Special Issues.
An on-line search of the titles and authors of the articles published in Five Arches from 2009-2015, the currently mounted Back Catalogue, and some Special Issues can be made using the Search tool on this page.
In addition our Research team may be able to help you track down things of specific interest with a keyword search of most of the issues of Five Arches.
Please send your enquiries by email to research@radstockmuseum.co.uk
Back Issues are available and can be purchased from the Museum: photocopies are usually available if any issue is out of print. Please come into the Museum during normal opening hours, or send your enquiries to Shop at Radstock Museum, Waterloo Road, Radstock, BA3 3EP.
or email shop@radstockmuseum.co.uk
Special Issues are searchable for 2005, 2006, 2008, 2009, and 2014.
Go to Five Arches History Journal – Home Page