Radstock Museum Shop sells: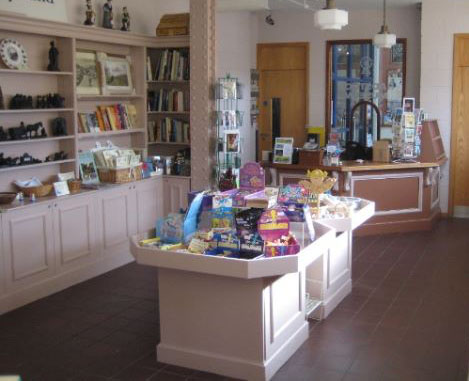 A wide range of Books of Local and National interest.
Pictures, CDs and DVDs.
Souvenirs, pocket money gifts and many other items of interest to our visitors.
The Shop is open February to November during normal Museum opening hours: Tuesday to Sunday 2pm – 5pm and Saturday 11am – 5pm. It is closed Mondays (except bank holidays). For full details go to Opening Times.
---
Quick Links:
Fourteen circular walks in and around Radstock by Peter Bradshaw, Larry Cunningham and Sue Fraser.
Mendip Engineering and the Mendip Car – An Industrial Revolution in Chewton Mendip by Tom Randall
Five Arches History Journal: Subscriptions: Current Issue: Special Issues: Back Issues.
Browse through the newest items that we have added for sale in the Museum Shop.
We also offer a Mail Order service. How to use Radstock Museum Mail Order.
---
The Books we have for Sale:
We stock over 200 titles of specialist books of both Local and National interest.
In order to make your browsing easier we have divided the specialist titles into 8 sections:
(Please note that some books may have an entry in more than one section). Click the link to access the page.
In addition, if you know what you are looking for, you can use the simple website Search, at the top of this page, to find key words from the title or the author of the book you seek; the search will identify the page or pages on which the book is listed.
We also offer a Mail Order service. How to use Radstock Museum Mail Order.
---
A selection from the items for sale in the Shop:
Memorabilia packs are a great way to bring history alive.
They contain replicas of items associated with their theme, e.g. ration books, evacuation labels, cigarette cards, identity cards and information leaflets and posters.
Memorabilia packs on sale in the Museum shop at £5.95 each:
First World War: Women's War: Children's War: Home Guard: Home Front: Blitz: RAF at War
Churchill: Suffragette
Victorian Household
Steam Trains
Wish You Were Here (Holidays by bus and coach) only £4.99
---
Our new range of bespoke merchandise includes coasters, eco-jotters, mugs and fridge magnets.
Prices start at £2.00

---
A new DVD by our own Dennis Chedgy – 'A History of Somerset Coalmining': Runs for  56 minutes : £10.00
Also available through the Museum Shop:
 Somerset Mining Memories DVD: £12.00
A miner's tale DVD: £5.00
CheerUp! Ye Poor British Miners CD by Dave Byrne & the Guss and Crook band and chorus: £10.00
Lost villages DVD: £14.95
Somerset and Dorset remembered DVD: £14.95
The Somerset and Dorset railway DVD: £14.95
Branch lines of Somerset DVD: £14.95
Somerset's forgotten railway DVD: £14.95
RTR3 GWR Steam Railmotor Bodmin and Looe DVD: £12.00
RTR4 GWR Steam Railmotor S.Devon Railway DVD: £12.00
---
We keep an excellent selection of GREETINGS CARDS many produced by local artists and featuring local scenes.
Some of the Museum Archive images are available as greetings cards, Christmas cards and post cards.
In partnership with the local Radstock social enterprise Autistic Eye we sell special art works created by people with Autism. The Museum shop has a selection of Autistic Eye greetings cards at £1.50 each.
We also have cards and prints by local artist Roger Jones to buy and to order.
Roger Jones Cards at £2.35. Roger Jones prints from £39.00 unframed.
---
We keep a stock of Radstock Museum tea towels in the shop.
They come in a choice of colours:  Black, Red and Sepia: all at the same price of £5.00 each.
---
Mail Order.
The Volunteers at the Museum Shop offer an old fashioned Mail Order service. You identify the book or item that you want, we tell you the total cost including postage, you send us the money and we then post it to you.