Radstock Museum Shop sells
Books: Pictures: CDs and DVDs: Souvenirs: Current, Special and Back Issues of the Five Arches History Journal: annual subscriptions to Five Arches History Journal: pocket money gifts and many other items of interest to our visitors.
The Shop is open February to November during normal Museum opening hours: Tuesday to Sunday 2pm – 5pm and Saturday 11am – 5pm. It is closed Mondays (except bank holidays).
For full details go to Opening Times.
For a quick browse through the newest items that we have added for sale in the Museum Shop please click this link: New in the Shop
A selection from the items for sale in the Shop:
The Museum Shop is currently selling prints including some by local artist Norman Matthews whose originals are the subjects of our Summer Exhibition: Local Life in Paint. The Norman Matthews prints are available, to buy or to order, in a range of sizes and some are limited edition, signed and numbered.
Three of the original oil paintings in the exhibition – Snooker Hall, Clandown Men and Radstock Market Hall – are for sale and these can be reserved with a deposit through the shop.
A new DVD by our own Dennis Chedgy – 'A History of Somerset Coalmining':
Runs for  56 minutes : £10.00
In partnership with the local Radstock social enterprise Autistic Eye we sell special art works created by people with Autism.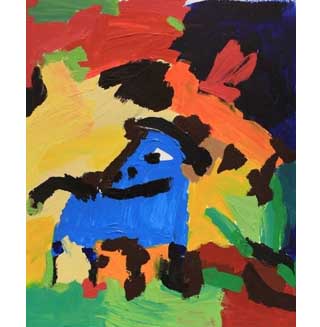 The Museum shop has a selection of Autistic Eye greetings cards at £1.50 each.
We also have cards and prints by local artist Roger Jones to buy and to order.
Roger Jones Cards at £2.35. Roger Jones prints from £39.00 unframed
For example: 'The Pines Express passing through Radstock Station 1962'.
Prints of this picture are available to order at the shop.
They come unframed in three sizes:
Small £39.00
Medium (display print size) £59.00
Large £79.00
It is a delightful picture. Do come to the shop to see it and order your print.
Two well known pictures by the late David Fisher celebrate the Somerset and Dorset railway   – "Wait for us! " (medium £40) and "Let the Battle Commence" (large £70) are for sale, mounted and un-framed, with full information about the scenes depicted and about the artist
We keep a stock of Radstock Museum tea towels in the shop.
They come in a choice of colours:  Black, Red and Sepia: all at the same price of £5.00 each.
The Books we have for Sale:
We stock over 200 titles of specialist books of both Local and National interest.
In order to make your browsing easier we have divided the specialist titles into 8 sections:
(Please note that some books may have an entry in more than one section). Click the link to access the page.
In addition, if you know what you are looking for, you can use the simple website Search, at the top of this page, to find key words from the title or the author of the book you seek; the search will identify the page or pages on which the book is listed.
Mail Order
The Volunteers at the Museum Shop offer an old fashioned Mail Order service. You identify the book and send us the money and we will post it to you.
This is best achieved via email to shop@radstockmuseum.co.uk but you could also telephone us on 01761 437722.
All titles are priced exclusive of postage. These titles can be posted to you at their individual postage costs, which will be established once you have made your selection. We may need to review this system in future but at the moment the lighter books attract a lighter postage charge.